Our horizontal auger boring kits, when paired with the power of heavy duty right angle drills most contractors already own, provide an econmical way to bore horizontally with minimal effort.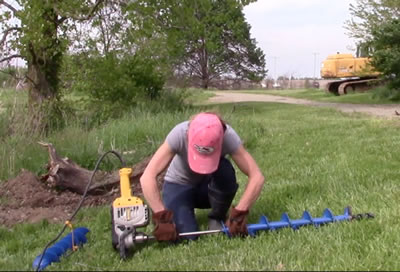 Auger under sidewalks, foundations and other concrete obstructions quickly, easily, safely and with minimum destruction to the surrounding environment. Power our horizontal boring set with your heavy duty 1/2'' right angle drill and discover why contractors are ditching their pry bars and shovels for our augers.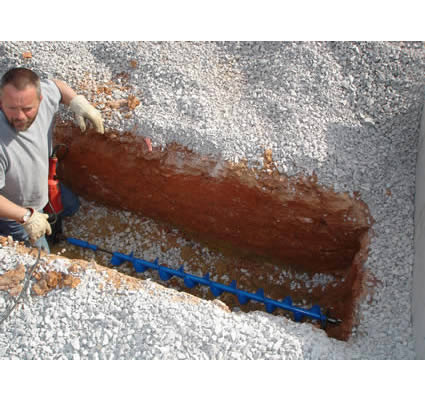 Our auger bits start as short as a 36 inch length section (plus the thickness of your drill) allowing you to work in tight areas and ensure the least amount of destruction to the landscape. Start with one auger section and add extensions to the back as you bore. There is no need to remove the auger from the hole. It's that simple.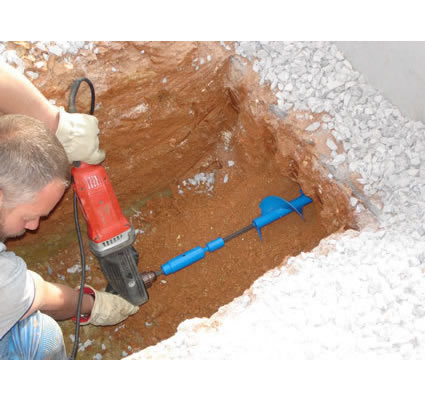 All our earth augers feature a completely replaceable nose and cutter assembly as well as an insulating drive adapter to help prevent electric shock. Technical info: 10-18 steel helicoid flighting, 10-20 heavy wall mandrel drawn steel tubing, cast steel cutter blade and high speed steel drilling nose.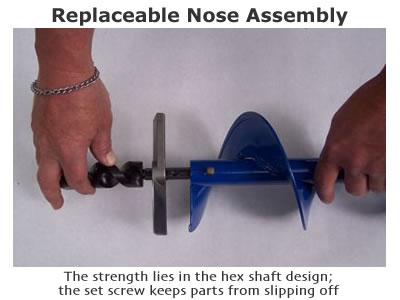 Always call before you dig to make sure you will not be boring into gas or electric lines.
Basic sizes of our horizontal boring set include: 3.25 inch diameter, 4.75 inch diameter (fits 4 inch PVC perfectly) and 5.75 inch diameter. Five foot lengths and seven foot lengths in stock. Custom lengths available up to 20 feet plus (soil conditions must be considered when boring long distances).
The horizontal earth boring auger performs best with these heavy duty drills:
Milwaukee 1854 3/4 inch Large Handle Drill
(Granddaddy of drills. Recommended for longer bores)

Milwaukee SuperHawg Right Angle Drill
Dewalt DWD450 VSR Right Angle Drill
Milwaukee Hole Hawg
Horizontal Earth Auger Testimonials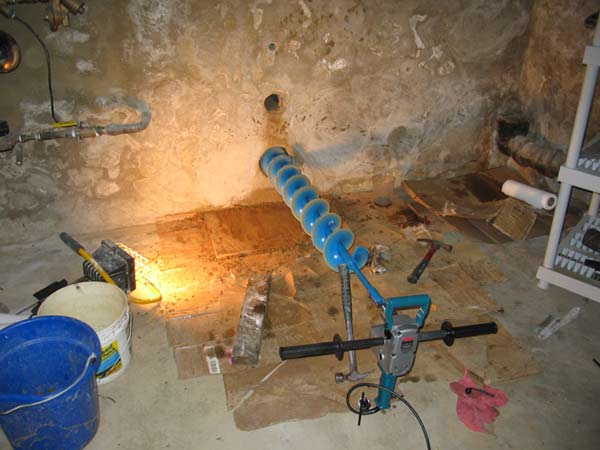 Here is the task I put your 14 foot drill through (see above picture). I first had to bore with a mini 6 inch core bit 32 inches to get to dirt. Once there I used all 7 of the sections. It completed both holes under the porch without hand digging. The depth under the porch started at 6.5 foot. I ended the sewer lines 62 feet at the curb. I am finished with the drill now and it is for sale.
Stephen, homeowner
Philadelphia, PA
I just wanted to write and say WOW!!!! What a great invention! What usually takes me an hour or so to get under (sidewalk) took me every bit of 5 minutes! I will definently do all I can to help spread the word of what great auger it is!!!!
Greg, plumber
Manassas, VA
I received my auger just in time to begin work on a job I have. It is fantastic! Saved me hours of digging or trying to use water pressure to blow out a hole. This is an awesome product and I will recommend it to others that are interested. I look forward to doing business with you in the future.
Ken, irrigation contractor
Baton Rouge, LA
I bought your auger in January and just had a chance to use it last week. THIS THING IS GREAT, only wish I had found it years ago. THANKS-
Tom, electrician
Danville, CA