Horizontal Earth Auger Testimonials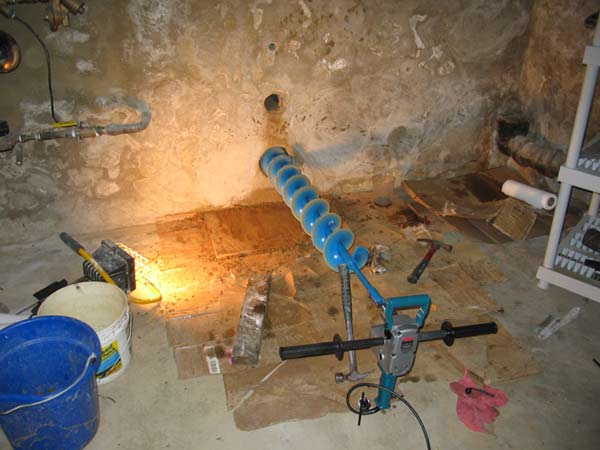 Here is the task I put your 14 foot drill through (see above picture). I first had to bore with a mini 6 inch core bit 32 inches to get to dirt. Once there I used all 7 of the sections. It completed both holes under the porch without hand digging. The depth under the porch started at 6.5 foot. I ended the sewer lines 62 feet at the curb. I am finished with the drill now and it is for sale.
Stephen, homeowner
Philadelphia, PA
"I just wanted to write and say WOW!!!! What a great invention! What usually takes me an hour or so to get under (sidewalk) took me every bit of 5 minutes! I will definently do all I can to help spread the word of what great auger it is!!!!
Greg, plumber
Manassas, VA
I received my auger just in time to begin work on a job I have. It is fantastic! Saved me hours of digging or trying to use water pressure to blow out a hole. This is an awesome product and I will recommend it to others that are interested. I look forward to doing business with you in the future.
Ken, irrigation contractor
Baton Rouge, LA
"I bought your auger in January and just had a chance to use it last week. THIS THING IS GREAT, only wish I had found it years ago. THANKS-
Tom, electrician
Danville, CA
We'd like to put your own boring story on our testimonials page.
Click here to tell us how our augers saved the day for you or your company.