About Custom Auger Systems
Custom Auger Systems, Ltd was formed in 2003 as a partnership between Arthur Drumm (founder and former owner of Marysville Rotary Broom, Marysville OH) and Tom Mash (partner, Mash Mechanical LLC, Knoxville TN).
Art began working with auger flight in the broom industry, making grain augers for farmers with kernel-friendly soft bristles. A few decades later, Tom, a master plumber, was inspired to design an auger after years of having to dig by hand to place drain pipes under footings.
Tom and Art joined forces and created Custom Augers to specialize in horizontal earth augers, post hole augers and garden augers. The two were awarded a patent for the first horizontal boring auger design in 2004.
Since then the Custom Augers brand has sold in all 50 states and around the world. A second patent was later awarded to Tom in January of 2010, consistent with Custom Augers' committment to be first in the earth auger industry.
Today, Art's daughter Becky manages the day-to-day operations of the company, while Tom's role is focused on research and development as he prepares to enjoy retirement.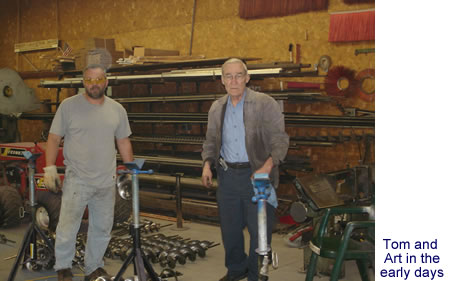 RIP Arthur E. Drumm: 1929-2014